K-Content Enters Its Golden Age on the Global Stage
K-Content is not only acclaimed for its excellence but also highly recognized for propelling annual growth in related Korean industries such as food, tourism, and beauty. As K-Content gathers expectations to play a crucial role in Korea's future industries, let's find out more about the economic ripple effects and prospects of K-Content from the pop columnist Kim Tae-hoon and adjunct professor Kim Hui-gyeong from the Korea National University of Arts.
Comprehensive Gift Package to Lead the Korean Economy: K-Content
K-Content has become a game changer in the Korean economy. Spanning dramas, movies, music, and webtoons, it has significantly influenced various sectors simultaneously, creating a ripple effect that surprised the world. According to the "2021 Content Industry Survey" released by the Ministry of Culture, Sports and Tourism, K-Content exports reached a staggering USD 12.45 billion, which equates to approximately 14.3 trillion won at the annual average exchange rate. This figure far surpasses the exports of Korea's representative home appliances, which stood at 8.6 billion won as of 2021.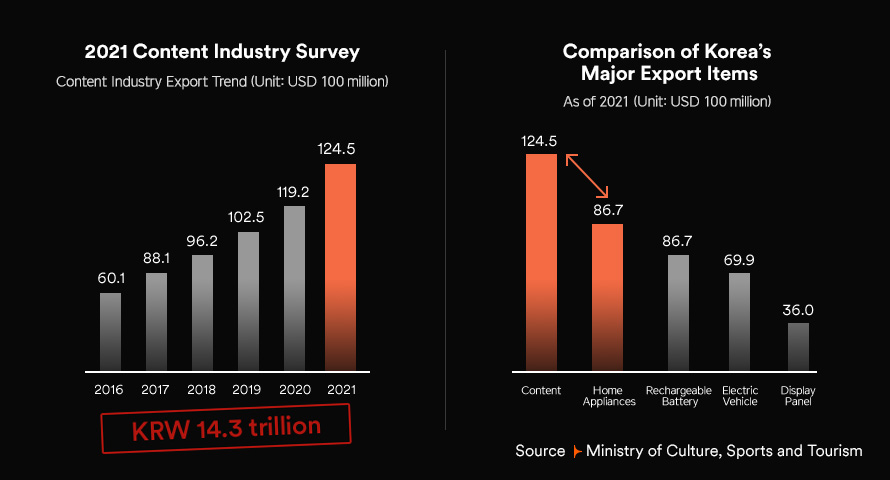 Exporting K-Content has considerable implications, extending beyond mere sales figures to significantly improving national brand recognition and generating substantial ripple effects. French cultural critic Guy Sorman identifies the U.S., France, Germany, Japan, and Korea as the five nations that have successfully exported both goods and culture. Through these countries, standing at the intersection of global economy and culture, we can witness the simultaneous ripple effects achieved by exporting goods and culture.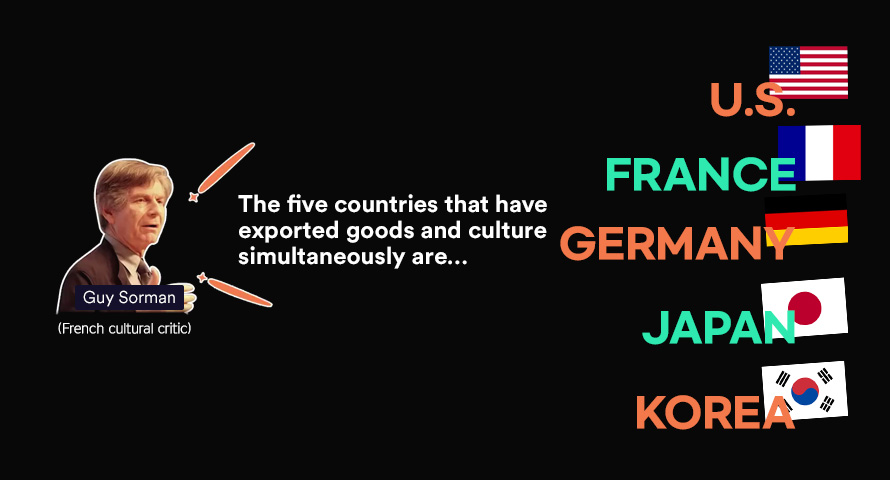 According to a report by the Export-Import Bank of Korea titled "The Economic Effect of K-Content Exports," it is estimated that for every USD 100 million in K-Content exports, a ripple effect five times that amount—totaling USD 510 million—is generated. Furthermore, a USD 100 million increase in K-Content exports is projected to trigger 2,982 new jobs. The growth of K-Content is also driving economic gains for workers in related fields.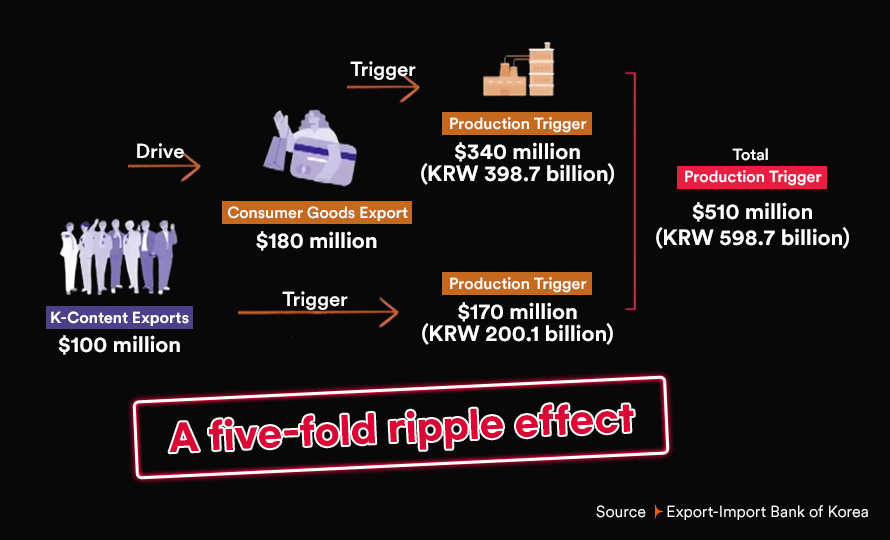 K-Beauty and K-Food Skyrocket Alongside K-Content Exports

K-Beauty and K-Food are sectors that have been most significantly impacted by the surge in K-Content exports. Products showcased in K-Content are gaining traction abroad. This is largely due to the heightened interest in the fashion, beauty, and food associated with the stars of the content, which naturally drives consumer curiosity.
"Ram-Don— a noodle recipe cooking Jjapagetti and Neoguri noodles together—featured in the film Parasite" is a prime example of K-Food within K-Content. The movie's depiction of characters enjoying ramyeon has ignited a global craze for K-Ramyeon.
Meanwhile, "Hot Chicken Flavor Ramen," the dish enjoyed by BTS's V in the entertainment show Jinny's Kitchen, was also warmly received by local Mexican diners and called the "Fire Noodles." Given the Mexican population's affinity for spicy food, Korea's fiery flavors found a natural audience. As you can see, K-Content also serves as a bridge that connects people worldwide and facilitates them to enjoy the content and food like a festival.

▲V of BTS is trying "Fire Noodles" and "K-Hotdog" in the tvN program
Jinny's Kitchen.
KCON: A New Stage for Showcasing Korean Products
K-Content is also used as a window for promoting the products of domestic SMEs abroad. CJ ENM is one of the companies that is actively utilizing this opportunity. Through its KCON, the world's largest K-Culture festival, it showcases a diverse range of Korean products, spanning beauty, fashion, and food. At "KCON JAPAN 2023," held this May, CJ ENM leveraged the record-breaking attendance of 123,000 people to facilitate an export consultation meeting for SMEs, ultimately securing export contracts worth $5.5 million. CJ ENM's consistent investment in the event, despite KCON's uncertain profitability, has proven fruitful, validating their unwavering confidence in the value of K-Content.
K-EnterTourment Soars with the Surge in K-Content Popularity
As the global influence of K-Content intensifies, the concept of "EnterTourment," such as the "BTS Tour" and the "BLACKPINK Tour," is experiencing a meteoric rise. This June, the 10th-anniversary "BTS Festa" drew a crowd of 400,000, with foreign fans making up over 120,000 attendees.
Notably, these fans extended their stay in Korea for about a month, enriching their experience with BTS-related events nationwide, including visits to locations frequented by the members. The lengthier the stay of these global fans, the greater the economic multiplier effect.
For instance, a BTS concert in Seoul in 2019 attracted 130,000 audiences. At the time, the number of foreign audiences was about 23,000, but as they visited Korea with their friends and families, the total number of visitors swelled to 187,000, generating an estimated economic impact approaching 1 trillion won.
Initially, EnterTourment referred to an integrated travel approach combining performances, tourism, shopping, food, and cultural experiences. However, the advent of K-Pop has led many international fans to list Korea as a must-visit destination, further enriching "K-EnterTourment" as a multifaceted and vibrant tourism product.
This trend is also evident in the American drama XO, Kitty, which was released on Netflix this May. Set against the backdrop of Korea, the drama follows Kitty, the protagonist from the U.S., as she attends an international school in Korea. The drama showcases famous Korean landmarks and traditional food through its storyline and even delves into Korean history. In its first week, XO, Kitty climbed to the second spot in the English TV Show category, reaffirming the enduring global interest and influence of Korean culture.
The Need for Extensive Efforts to Sustain K-Content Growth
The current surge in K-Content is not only revitalizing the content industry but is also generating ripple effects across various sectors, significantly enhancing Korea's national image in the process. Therefore, it is imperative now to channel efforts into steering this burgeoning industry towards sustainability. While the K-Content sector has largely grown through private initiatives, an extensive strategy involving governmental participation is crucial for its consistent evolution.
With the OTT industry witnessing exponential growth, competition has intensified, and production costs are soaring to meet audience expectations, making it challenging even for global content powerhouses to assure continual investment. As other countries are currently formulating various self-rescue measures to address the escalating production costs, the need for direct government policy support in Korea is more urgent than ever. These supports can come in the form of tax incentives for investment costs or the provision of dedicated filming locations to overcome current challenges.
Despite these difficult production conditions, content producers must maintain a steady stream of investment and support for creators for K-Content to evolve into a sustainable future industry. Furthermore, it's crucial to instill a culture of responsible content consumption among consumers, especially in light of the recent "noonooTV incident," a major illegal streaming platform in Korea. For K-Content to achieve sustainable growth, extensive efforts, attention, and support are required from all stakeholders, including content producers, viewers, and the government.
As K-Content has positioned itself as a new growth engine for Korea, it is expected to create new history this year. In the meantime, CJ ENM is encouraging the challenges of numerous creators and forging a new culture in the content industry. CJ ENM will continue to support the new chapter of K-Content by focusing on securing its competitiveness and sustainability.
※<BEHIND TALK> was produced based on CJ ENM YouTube channel's "Con Ssul Ting."